4 prawn recipes that are perfect for spring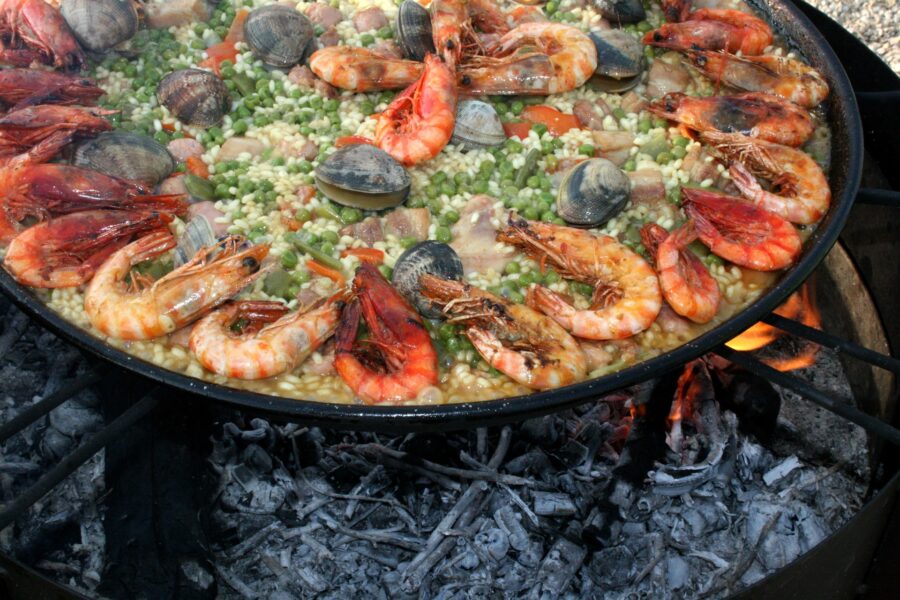 Spring is in the air. As we leave the colder months behind us and head out into the sun, we're ready for lighter evenings and lighter meals — no more heavy comfort food! As for ingredients, there's no better protein for a bright springtime dish than prawns. 
These seafood staples are highly nutritious, providing approximately as much protein as the same amount of chicken or beef, at half or up to a third of the calorie content. They're also a great source of B vitamins, vital in energy production. Factor in their delicious taste and dinnertime versatility, and you've got a recipe for success.
If you want to introduce some shellfish to your diet, here are four prawn-based recipes that we've been enjoying this month.
1. Casarecce with Courgettes and Prawns
Casarecce is a little-known gem of the pasta world. To quote connoisseurs Pasta Evangelists:
"Casarecce is a short, wide band, loosely twisted to resemble a scroll which in turn creates an elegant 'S' shape with narrow grooves down the middle of the pasta. Originating in the sun-kissed region of Sicily, the curves of this lightly twisted shape make it perfect for capturing sauces." They also go on to note that it is particularly well suited to more summery, delicate recipes.
Combined with courgettes and prawns, this curvy Sicilian pasta makes a healthy, colourful springtime dish that will energise your weeknights. And if like us, you're still struggling to pronounce 'casarecce' — have no fear. For this recipe, you'll just need to ask for the pasta aisle at the supermarket and you should easily be able to find some. 
Ingredients
2 servings
200g raw peeled prawns 

200g casarecce pasta

30g butter

2 medium-sized courgettes

100ml white wine

1 tbsp parsley

2 garlic cloves

Half a lemon, zested

Salt to taste
Method
Add pasta to a pan of salted boiling water and simmer until al dente, according to packet instructions.

While pasta cooks, slice courgettes thinly into discs, and peel and finely chop garlic cloves.

Heat half the butter in a frying pan on medium heat until sizzling, and stir fry courgettes for 3-5 minutes, or until soft. 

Stir in the prawns and cook for a further 3 minutes, until they start to turn pink.

Add garlic and lemon zest, and cook for 1 minute.

Add the rest of the butter, pour in the wine and bring sauce to the boil. Stir in parsley.

Once the pasta is cooked, drain and combine with the sauce.

Squeeze over lemon juice and season with salt to taste.
2. Prawn paella
Unless you're sitting on a Costa del Sol beach, sipping a sangria and waiting for dinner to be served, a paella with all the trimmings can be a bit of a task. Though, not quite as much as the largest paella ever made, which was big enough to feed 110,00 people and took a team of 80 chefs to make.
Thankfully, however, a quick prawn paella can be made by just one, and you can have it on the table within half an hour. By taking out the chorizo, chicken, and any extra steps preparing a broth, you can have this sumptuous springtime classic sorted in no time.
Ingredients
2 servings
150g paella rice

200g raw peeled prawns

75g frozen peas

50g green beans

500ml chicken stock

2 garlic cloves

1 red pepper

1 onion

1 lemon

1 tbsp olive oil

1 tbsp parsley

1 tsp smoked paprika

1 tsp red chilli flakes

1 large pinch saffron
Method
Heat olive oil on low heat and add sliced pepper and onion to the pan. Cook for 3-5 minutes until soft.

Finely chop tomato and garlic and add to the pan, before allowing to cook for a further minute.

Add paprika, saffron, and chilli flakes. Cook for 1 minute.

Combine the paella rice, cooking for 2 minutes. Stir occasionally.

Separately prepare the chicken stock by mixing a cube with boiling water, and mix into pan contents.

Stir together and bring to a boil. Simmer for 15 minutes.

Once simmered, add green beans, peas, and prawns. Cook for 5 minutes until prawns begin to turn pink.

Season to taste with salt, and stir in parsley. Serve with lemon wedges.
3. Satay prawns with papaya salad
To add a burst of springtime flavour to your meal, you can use fresh fruit. Papayas are a great source of vitamin C and antioxidants, promoting heart health and aiding digestion. As a result, the exotic island fruit is perfect to incorporate into your diet for a new-season health kick.  
Marinating is a great way to add flavour to prawns, and an easy way, too. Here, we've chosen a satay sauce to inject some nutty goodness into dinnertime, and offset the sweetness of the papaya.
Ingredients
4 servings
Satay sauce
150g peanut butter

150ml coconut milk

2 garlic cloves, peeled and finely chopped

1 small red chilli, finely chopped

1 tbsp fish sauce

1 tsp turmeric powder

Dash of lime juice to taste
Salad
300g papaya

200g raw peeled prawns

150g cherry tomatoes

100g green beans 

1 stick celery

Coriander sprigs to taste

Lime wedges to serve
Method
Start by preparing the satay sauce. Place all satay ingredients into a food processor and blend until the mixture is smooth.

Cover your prawns with the sauce, refrigerate and marinate in a sealed container for 2 hours.

Peel and shred papaya using a spiralizer. Chop tomatoes into halves, and green beans and celery into small (2-3cm) pieces. Assemble salad in a bowl.

Remove prawns from the sauce and gently grill for 2-3 minutes on each side, until cooked.

Top salad with prawns and pour over the satay sauce. Serve with lime wedges and coriander to taste.
4. Thai prawn stir-fry
Stir-fry is the definition of an easy family dinner. You can cram plenty of veggies in and empty out whatever's left in the fridge, with minimal cooking time — making for a super practical midweek meal.
Ginger and garlic are usually recommended as a flavour base, but from there you can add pretty much any veg you like: mushrooms, broccoli, carrots, or whatever else needs using up. For this recipe, we'll be opting for a classic red Thai stir-fry, using a curry paste to spice up our prawns — along with bean sprouts, red pepper, and baby corn for that extra crunch. 
Ingredients
2 servings
50g red thai curry paste

200g ready-cooked egg noodles

150g raw peeled tiger prawns

100g beansprouts

75g baby corn, halved

100ml coconut milk

100ml vegetable stock

1 red pepper, finely sliced

2 garlic cloves, peeled and finely chopped

1 tbsp fish sauce

1 tsp ginger, grated

Lime wedges to serve
Method
Heat curry paste on a medium heat with the garlic and ginger, and stir fry for 2 minutes.

Add sliced red pepper and baby corn and stir fry for a further 1 minute.

Add beansprouts and combine until sprouts begin to wilt.

Pour in coconut milk, fish sauce, and vegetable stock. Simmer for 3 minutes.

Add prawns and noodles and stir fry for 3-5 minutes, until prawns turn pink.

Dish up and serve with lime wedges.