6 ways to better engage your customers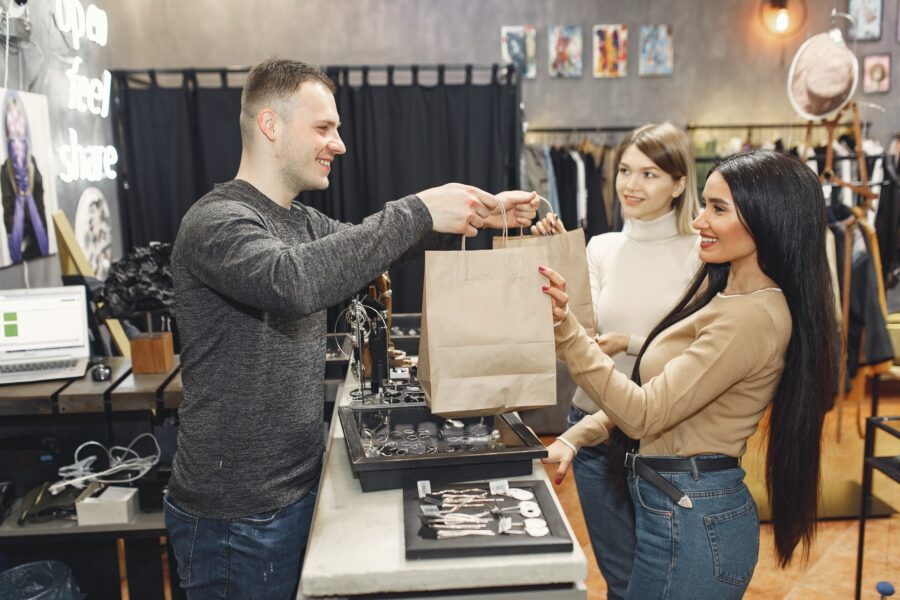 Customer retention and engagement is one of the keys to scaling and running a successful business. With the cost of acquiring a new customer far exceeding the cost of retaining a current customer, efficient engagement should be at the top of your priority list. Here we explore some of the best customer engagement strategies to help boost engagement without being intrusive.
Ask for feedback
One of the best ways of engaging with your customers is by gathering feedback. Consider using customer surveys – which allow you not only to reach out and re-engage with your customers following a purchase, but they also give you clear insights on what's working well and any areas for improvement. By creating a regular feedback loop, you can start to uncover trends in what is and isn't working within your business, allowing you to prioritise your future direction and development.
To encourage customer feedback, make the review process as easy as possible by offering a choice of one or two easy questions, or a simple 1-5 or 1-10 star rating. For example, you can ask 'How likely are you to recommend our business to a family member or friend?' or 'How likely are you to purchase this product again?'. For more in-depth insights, consider asking about their experience of the sales process, after-sales journey and ask for specific comments on where you can improve.
As well as providing insights, getting written customer feedback also allows you to gather testimonials for your product or business as a whole, which can be used in your marketing and communications as well as on your website to boost credibility.
Build a community
Another great method of re-engaging with your customers is to build a community. Communities don't have to be expensive, and you can even use Facebook or LinkedIn Groups to build a forum-style area for a cost-effective route to customer engagement.
A community allows your team to answer questions, create discussions and share the latest industry insights or business updates, keeping your customers in the loop. Building a community also allows your customers to network with and chat to each other, and may become a useful source of people sharing tips and tricks for your product!
Engage with customer segments
Customer segments are a great way of helping to prioritise your marketing and communications efforts. You can create segments for:
One-off customers
Repeat customers
Purchasers in the past five months
VIPs (based on spend or frequency of purchases)
By engaging with each in a unique way, this can become an effective method of customer engagement. For example, you may prioritise your VIPs by sending them exclusive VIP offers, or by giving them 48-hour access to a pre-sale for your product line.
Another option for customer segments is segmenting by product. If you have data on all customers who have bought a certain product from you, they may be interested in any new editions or complementary products. A good example of this is a BBQ store. If you sell barbecues, tongs, gloves and barbecue stands, someone who has recently bought a barbecue on its own may benefit from a stand or cover – so by showing personalised product recommendations based on their purchase history, this is another effective method of engaging with your customers, while also driving customer retention and repeat purchases.
Host an event
Customer only or exclusive customer events are a really great way of getting to know your customers better. Luckily, there are plenty of options for event hosting that don't include expensive drinks bills or canapés!
Online webinars are a good starting point. These can be used for industry updates, unveiling new products or even just catching up on the latest in the industry. You can choose to host a webinar from your offices, create a presentation or even host a Zoom meeting where your customers will get the chance to ask questions and be actively involved in the webinar. To keep things interactive, be sure to ask questions, ask people to raise their hands and to encourage your customers to vote for certain things, giving you valuable customer insights. Questions to vote on could include:
Which products they have purchased from you
How often do they use your products
Would they use a referral or discount code scheme
What do they think about your upcoming products (colour options, use, fit with your other products, and so on)
Use social media
Another great way of hosting an event is on Facebook. The likelihood is that many of your customers will have Facebook, and a Facebook event is a low-maintenance and low-cost way of creating an interactive event online. You can make your event 30 minutes to several hours, and you can create and schedule your content in advance to be published, giving you more space to respond to comments and engage quickly.
To encourage users to join and participate with the live event, try mixing up your content with competitions that encourage likes, shares and comments such as creating a caption for an image, commenting with their favourite emoji or asking how your products make them feel. The competition element doesn't have to break the bank, an Amazon voucher or even a big bar of chocolate can be an exciting prize!
Beyond events, this advice applies to your organic page posts, too. Photo competitions, giveaways and even sharing things like maths, logic and letter problems are all easy ways of encouraging engagement. However, it's important to remember, particularly on social media to try and keep the conversations two way whenever possible – so be sure to engage with the comments you're receiving to keep your customers engaged.
Create incentives
One final easy customer engagement strategy is creating incentives for your customers. These can take the form of referral codes, discounts or even commission for some products.
In the age of 'influencer marketing', lots of social media users like to think of themselves as an influencer, even among friends and family. By giving your customers a unique referral code, they are more likely to recommend your product(s) to their friends, family and followers. By creating an incentive for these referrals (such as a discount on their next purchase, a free gift or a money-off voucher), this becomes a low-cost way of generating new business while engaging with your current customer base and keeping them happy.
Another good method to use that is starting to be adopted more widely is commission structures. For B2B and B2C businesses alike, offering a small (but worthwhile) commission for any referrals that your current customers pass your way is another win-win, where you only pay if the lead turns into a customer, and your customers will continue to refer others to you as they gain a financial benefit.
To summarise, keeping your customers engaged doesn't have to involve regular email marketing campaigns. Create two-way conversations by gathering feedback, hosting events and creating bespoke communications based on your customers' purchase activity, making each interaction more meaningful.