5 Best Things to do on the Gold Coast Now
Discover the best activities on the Gold Coast for a fun holiday in Queensland.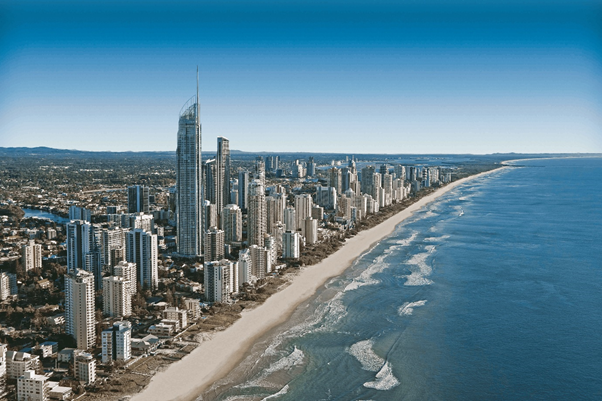 1.      Whale watching
Join a specialty whale watching cruise for your chance to get a first-hand experience with the impressive, majestic creatures. The Gold Coast has one of the longest whale watching seasons in the world, so if you're going to go whale watching anywhere, you'll have a better chance of it here. There's no guarantee you'll spot a whale but keep your eyes open for all kinds of sea life and you might see something amazing. Cruises have been known to come across not only whales, but also dolphins, flying fish, turtles, and even sharks!
2.      SkyPoint
In the Q1 building, on the 77th floor is the SkyPoint Observation Deck. The building is 230 metres tall and the deck is Australia's only beach-side observation deck. From the deck, you can enjoy 360° views of the sea, the city, and the hinterlands. You can even grab a bite to eat while you go whale watching from the deck. If that's not exciting enough, you can climb to the top of the tower and feel the ocean-fresh wind on your face for the most spectacular views of the Gold Coast.
3.      Amusement parks
Ask any thrill-seeker and they'll tell you the best activities on the Gold Coast are the amusement parks. There are several parks you can attend, and each offer something unique. Whether you like rollercoasters, rides for the whole family, waterslides, live animal shows, or parades featuring your favourite characters from movies, there's fun to be had at the amusement parks.
4.      Australian Outback Spectacular
Dinner and a show with an outback twist are what you'll enjoy at the Australian Outback Spectacular. A hearty meal and a performance featuring cattle dogs, horses, and birds are what to expect here. Watch a dramatic story of people living in the outback unfold before you. You'll carry the memory of skilled performers and animals demonstrating their unparalleled abilities with you for a long time.
5.      Jellurgal Aboriginal Cultural Centre
The Jellurgal Aboriginal Culture Centre is the only centre dedicated to Aboriginal culture on the Gold Coast, and it's fully owned and operated by the local Aboriginal community. If you love to learn about the history of the land you're visiting, a visit to the Jellurgal Centre is one of the activities in the Gold Coast for you. You can join a tour or a walkabout to discover more of the history and culture.