5 Ways to Get the Hot Tub Your Family Wants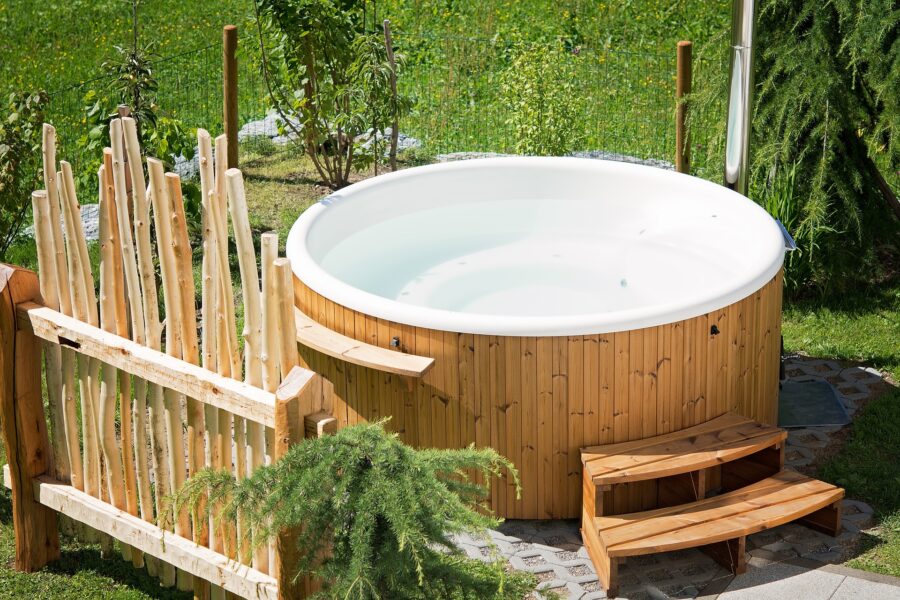 Winter seems to be getting colder and longer in many parts of the world. The transition into a warmer spring is a welcomed experience, but you can also make your winters a little bit warmer with a hot tub.
If you've bought a home that didn't come with a hot tub, you're missing out. According to survey data collected by Hot Spring, many people credit hot tub soaks for getting better sleep and improved recovery after intense exercise.
Hot tubs cost money, but they don't have to cost a fortune. If you'd like to add a hot tub to your list of amenities on your property, here's how to get one affordably.
Shop around and compare prices
If you're willing to spend the money to get a hot tub enclosure custom built for your space, shop around to find the best deal. Just make sure to check prices with professional businesses so you know the craftsmanship is good quality and worth comparing. 
You'll find hot tubs come with a wide range of price tags that can vary by thousands of dollars. Be willing to forego features you don't really need in order to get the hot tub with features you really want. For example, you probably want jets, but don't need an expensive, fancy jet system if it's going to cost you an extra $500. 
With the money you'll save by not getting unnecessary upgrades, you can get cool features like blue lights or a remote-controlled cover.
Get an inflatable hot tub
If you don't own your home, you'll be glad to know there are inflatable hot tubs. Just like inflatable above ground pools, you can get an inflatable hot tub for your backyard. A decent inflatable hot tub can cost between $300 and $1,000 or more if you want a deluxe model. 
Inflatable hot tubs aren't hard to find. You can get one on Walmart's website, Amazon, and from dozens of retailers online.
Build your own hot tub
Are you handy with wood? You can build your own hot tub. It's really not that hard. Plenty of people build their own hot tubs as an addition to building a deck or patio. 
You can find a variety of plans for building your own hot tub online, including projects that look professional and some that use Rubbermaid plastic tubs.
Building your own hot tub can be a fun project if that's what you love to do, but if you're not keen on spending the time and effort, you're better off buying one from the store.
Get a wood-fired hot tub
You may be surprised to learn that there are wood-fired hot tubs that operate just like wood burning stoves. You build a small fire and the fire heats the water. While you can find several models pre-built, there are far more options as DIY kits. 
DIY wood-fired hot tubs are fairly popular and will save you money on electricity. The only downside is that you have to keep the fire going just like you would keep a wood stove fire burning. That means having a stash of wood nearby. You'll also need to wait between 2.5-3.5 hours for the water to rise to the proper temperature (around 103 degrees Fahrenheit).
Some wood-fired hot tubs are designed with a top-loading mechanism to make adding wood easy without getting out of the tub.
If your tub doesn't provide easy access to the fire and you don't have someone willing to maintain the fire from outside the tub, you'll need to get out once in a while and add some wood.
Look for a used hot tub in classified ads
If a brand new hot tub is out of the question and you're not sold on the aesthetics of a Rubbermaid tub or an inflatable tub, start checking out the classified ads. You'd be surprised how many people sell their old hot tubs. 
When people upgrade their hot tubs, it can be difficult to get rid of their old one. It costs money to take to the dump and their friends and neighbors don't have a vehicle to transport it to their home. 
If you're looking for a hot tub, don't rule out a used tub because you'll probably find one for less than you thought possible.
Hot tubs are an investment in your happiness
The therapeutic benefits of soaking in hot water are huge. If you're going to add anything to your home, a hot tub is the best place to start.