7 Festive Company Christmas Party Ideas That Your Employees Will Love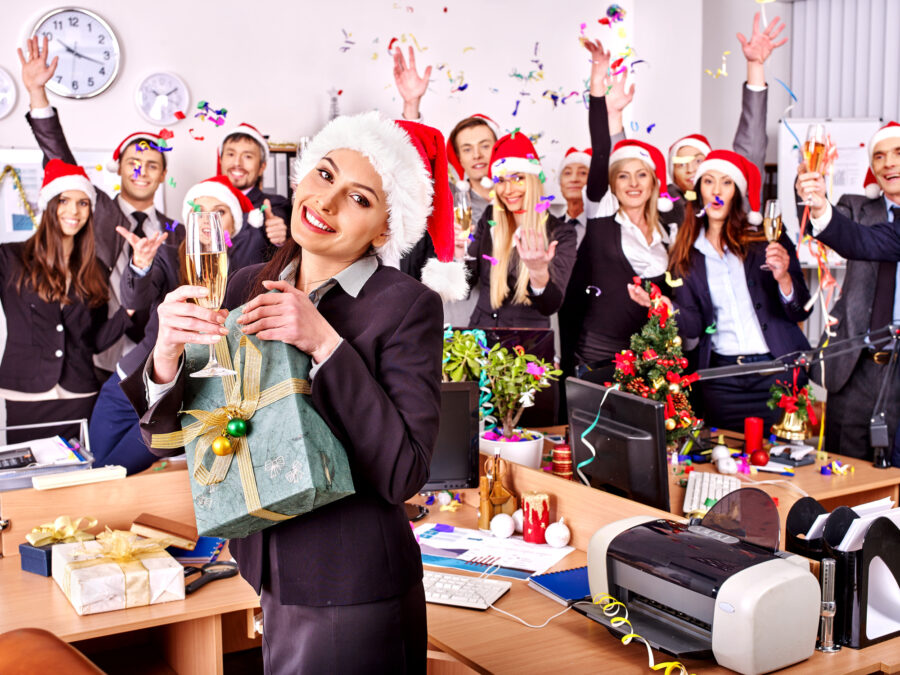 Oh Christmas Tree, Oh Christmas Tree, it's time for our office party!
So, it's nearing that time of year when you have to dig the tinsel out of the office storage room, unpack the tree from the broom closet, and start to figure out how you're going to get everyone to celebrate the festive season.
Perhaps it's time to plan a legendary Christmas party instead of the same old, same old! Keep reading and get inspired by these great company Christmas party ideas.
1. A Christmas of Color
Let's get rid of the old and bring in the new! What about a Christmas party that's inspired by all the colors of the rainbow, rather than the traditional green, red, and gold?
Throw a party with rainbow-themed decorations and brightly colored food!
2. All About the Films
There's something so wholesome about the dozens of Christmas movies that grace our screens every year.
Throw a party inspired by Christmas films, encourage people to dress up as their favorite characters, and roll the films to create a cute atmosphere!
3. Holiday Quiz Time
Your company Christmas party could follow a really cool, fun Trivia theme. Bring in a quizmaster and throw a quiz party for the ages.
All questions could be holiday-themed! Who was green and hated Christmas? Who was the best holiday bad guy buster?
Bring in some funky prizes!
4. Ugly Sweater Competition
Office Christmas party ideas can get pretty boring, but never when it comes to funny and ugly Christmas sweaters!
Send out those invitations and encourage people to put on their ugliest festive pullover and attend the party. Have spot prizes for everybody and put on a charade for the voting!
5. Festive Food Trucks
Food trucks are fun! Sauce on your chin and dripping on your hands. Christmas-themed tacos and Santa's favorite burritos.
Take notice of which food truck the workforce favors and surprise them by having it arrive at the party with an all-you-can-eat display of their best snacks.
6. Funny Gift Party
Let's be real.
Secret Santa gifts with tinier than tiny budgets are just not the way to go.
Take some of your Christmas party budget and buy some fun, quirky gifts that can get the giggles started. Put them all under the tree and have your guests randomly pick their gift, open it for all to see!
7. Hit The Water
Nobody ever thinks of the water when it comes to a festive party. It's always about snow and twinkling lights.
But, you get twinkling Christmas lights and cool vibes on Christmas boat parties too! Invite the staff to take a load off and see the year out on a cool Christmas party boat!
The Best Company Christmas Party Ideas
So, now you've got a load of company Christmas party ideas. The main thing is that you choose something that you know the staff will enjoy. There's no point in choosing a party that they might not like.
It's not a bad idea to bounce your favorite idea off one or two people to see their reaction, and then pick the best one from there.
Need more party content? Simply type "party" into the search bar and be blown away with great inspiration.