7 Ways to Explore the Great Smoky Mountains National Park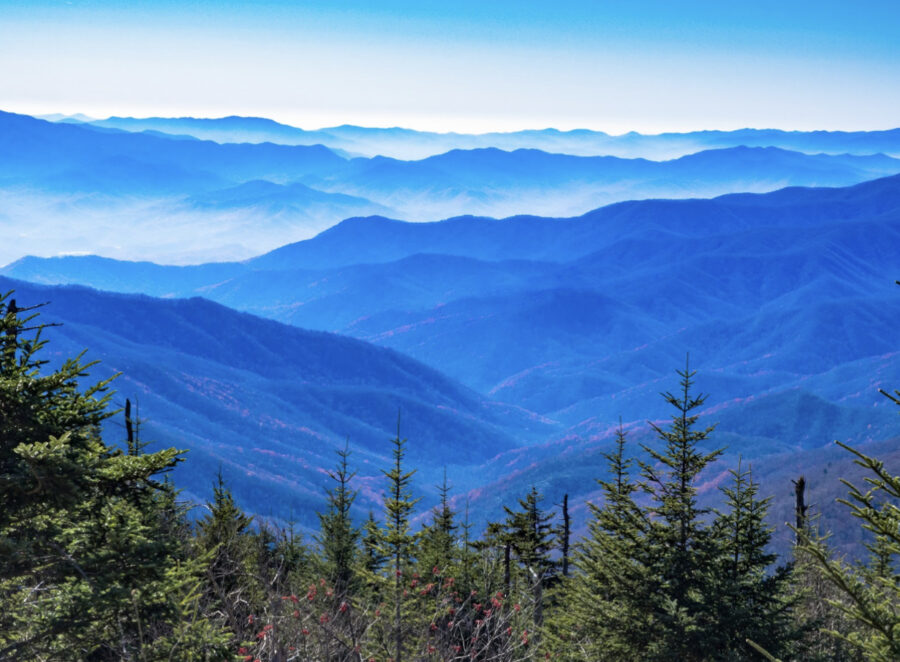 The Great Smoky Mountains National Park sees over 12 million visitors per year, and it's no wonder when you consider all that makes it so unique. These hazy blue peaks are some of the most ancient mountains in the world – and they have seen a lot. The region was once the home of the Cherokee and later saw the arrival of Scots-Irish European settlers. The Smokies provided moonshiners a safe haven during Prohibition, and the park continues to offer safety to the native flora and fauna. These mountains even inspired Appalachian bluegrass music and gave us the legendary Dolly Parton!
Today, the Smokies offer seclusion, respite, and entertainment to those who choose to bathe in their natural beauty. Whether you're visiting for a quick weekend getaway for a week-long family adventure, you can't miss out on the rich mountain scenery. These are a few of the best ways to explore the Great Smoky Mountains National Park!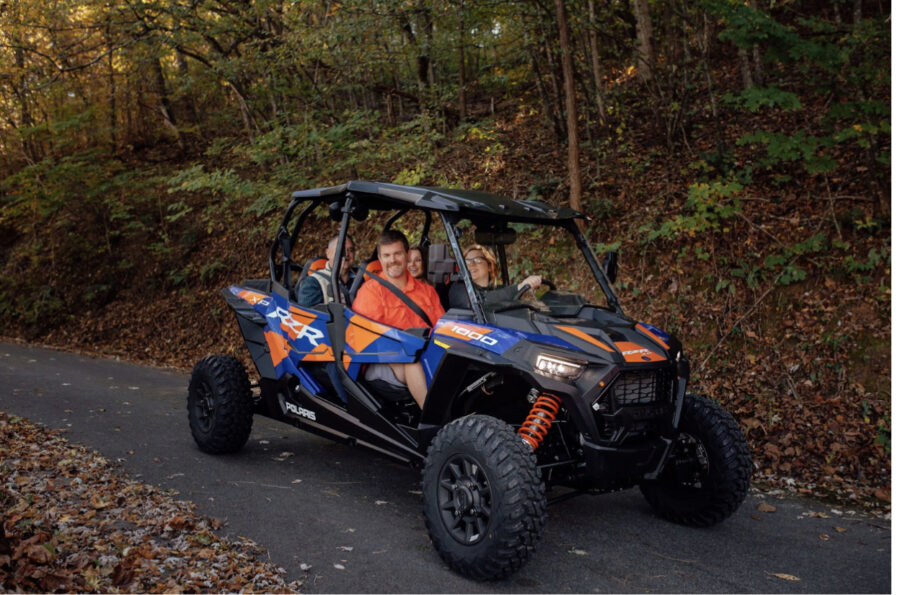 Cruise Through Cades Cove
Cades Cove is a must when visiting the Great Smoky Mountains National Park. Of all the things to do in Cades Cove, a scenic drive along the 11-mile, one-way loop in the comfort of your car is one of the most popular. First, make a pitstop at Wranglers & Razors to choose a trail-blazing vehicle like a 2-door or 4-door Jeep, Slingshot, or UTV Razor before hitting the auto trail!
As you cruise along with the wind in your hair, keep an eye out for the features that make Cades Cove famous. Historic structures like churches, barns, grist mills, and log houses still stand as a testament to the resilience of the early European settlers. Wildlife like white-tailed deer, coyote, turkeys, and black bears continue to make this valley their home. Plus, if you feel like getting out to stretch your legs, you'll find plenty of hiking trails along the Cades Cove loop, leading to fascinating historic sites, waterfalls, and panoramic overlooks.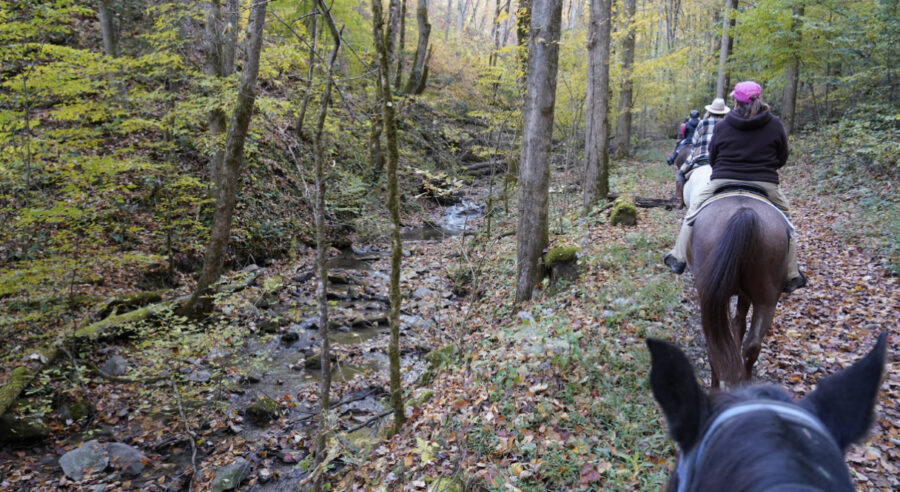 Go Back In Time On Horseback
At one time, the Cherokee hunted these forests and European immigrants settled these hills. They saw this gorgeous land from the unique perspective of the back of a horse. You can see these mountains through the eyes of the early settlers and indigenous people when you take a scenic horseback riding tour through the Great Smoky Mountains National Park.
Sugarlands Riding Stables is one of the few ranches that offers horseback riding tours that actually tour inside the park. If you've never ridden before, don't worry! Their well-trained horses come with an experienced guide to help you figure out the reins and show you the way. All tours proceed at an easy walking pace, giving you plenty of time to immerse yourself in the sights and sounds of the forest. Keep your eyes and cameras out for native wildlife like black bears, turkeys, elk, woodchucks, and deer. Throughout your 1-hour, 1.5-hour, or 2-hour tour, you'll also encounter bubbling mountain streams, old growth forests, and beautiful mountain vistas.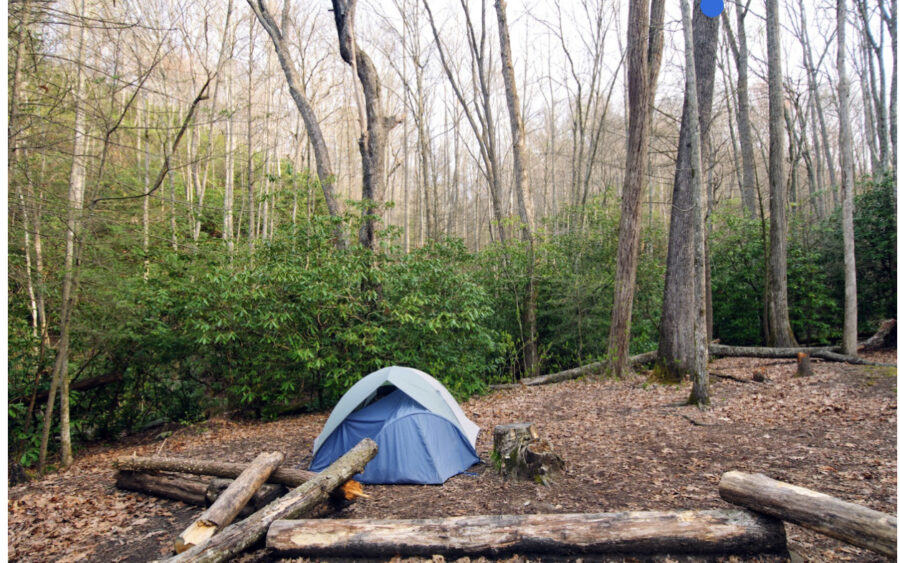 Camping
Imagine waking up to a red and gold sunrise over those iconic smoky blue peaks, the gentle sound of a trickling creek fading into the shushing of leaves as a light breeze passes through the treetops. A true escape into the solitude of nature means setting up camp somewhere deep in the woods. There are two main ways to camp in the Great Smoky Mountains National Park.
Backcountry camping involves backpacking a distance into the forest depths to find a campsite or shelter along the trail. There are countless sites within the national park where backcountry hikers are welcome to set up camp, as long as you have a permit and advanced reservations.
Frontcountry camping involves pulling your car (or RV) up to a campsite on an established campgrounds where you'll find running water, picnic tables, and fire pits. There are ten frontcountry campgrounds supported by the park. However, consider staying at the Cades Cove Campground so that you'll be within a short walk or drive of some of the most popular trails in the Smokies.
Fishing
According to the National Park Service, there are about 2,900 miles of streams inside the Great Smoky Mountains National Park, about 580 of which contain wild brook, rainbow, and brown trout. The park allows fishing year-round in any of the streams, as long as you have a valid Tennessee or North Carolina fishing license. Anglers are welcome to take up to five trout or smallmouth bass measuring at least 7 inches and twenty rock bass of any size per day. Just remember to "leave no trace." For fisherfolk, this means not disturbing the rocks in which fish build their nests and disposing of fish remains in deep pools at least 200 feet downstream of any campsites.
Hiking
Hiking is the most obvious way to get to know these beautiful mountains firsthand. First, you'll need to get a parking tag for access to the national park. Daily passes are $5, and weekly passes are $15. Once you've got your parking tag, plenty of water, trail snacks, and sturdy shoes, you're ready to map out your route. Consider one of the following popular trails.
Laurel Falls – You can't say you've explored the Great Smoky Mountains National Park if you haven't been to the impressive 80-foot-tall Laurel Falls. The paved 2.4-mile out-and-back trail is easy enough even for small children and only takes about one to two hours to complete. However, it is not recommended for strollers, wheelchairs, bikes, or pets. Laurel Falls does see a lot of foot traffic in the afternoon, so set out bright and early to miss the crowd!

Gatlinburg Trail – This pet-friendly and bicycle-friendly trail departs for 1.9 miles from the Sugarlands Visitor Center. You'll get some nice views of the Little Pigeon River dotted with old homesites. The woodland trail is flat, accessible, easy for beginners, and even includes a pedestrian foot bridge.

Rainbow Falls Trail – This moderately difficult trail is not recommended for beginners but could be a thrill for advanced hikers. The 6.7-mile trail covers 1,700 feet in elevation with rocky switchbacks to reach the summit of Mount LeConte. Along the way, you'll get to see the gorgeous Rainbow Falls, named for the dazzling light patterns the mists create at certain angles.
In Conclusion
The Great Smoky Mountains are a subrange of the Appalachian Mountains covering over half a million acres between Eastern Tennessee and Western North Carolina. The National Park works to preserve the land as it was when Europeans arrived. It also protects the native wildlife, while offering humans an unobtrusive way to enjoy the scenery as well. There are countless ways to enjoy the fresh forest air, the sparkling mountain creek waters, and the panoramic views. Cruise, ride, camp, fish, or hike – you can't go wrong with your choice of experience within the gates of the Great Smoky Mountains National Park!