How Much Does a Wedding Dress Cost? The Ultimate Guide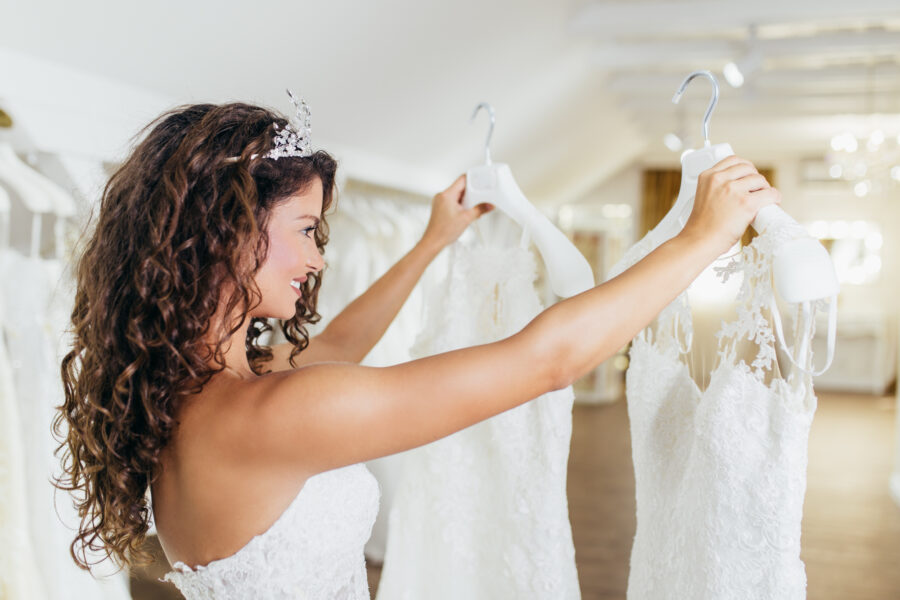 It's one of the biggest days of your life, but you don't have to empty your pockets to pay for your wedding. By planning a comprehensive budget ahead of time, you can make sure that you've saved enough money to cover all of your costs.
It can help to think about the biggest parts of your wedding, and what those expenses might be. One of those is your wedding dress!
How much does a wedding dress cost and where can you find some wallet-friendly deals? Today, we're answering all of the questions you need to know.
Creating a Wedding Dress Budget
When buying a wedding dress, you'll soon find that there isn't a one-size-fits-all style that works for everyone. Likewise, price points can be all over the map.
Before you start shopping, take the time to define exactly how much you can afford to comfortably spend on this part of your day. If an elegant, high-end gown is at the top of your wish list, then you might have started saving years ago. On the other hand, if you'd rather splurge on flowers and food, then you may be fine with hitting the sale rack.
There's no right or wrong way to approach this initial task, but the key is to be realistic. You don't want to get your hopes set on a particular dress only to find that it's way above your limit.
The easiest way to start is to establish a 50/30/20 budget. With a plan like this, 50% of your earnings will be allocated to your needs, and 20% will go toward your savings.
The remaining 30% will go to your wants. In this case, your wedding dress would be categorized as a want. Calculate how much money you bring in each month, and use that number to determine the percentage that you can allocate.
The Most Common Wedding Dress Cost Factors
Once you know how much you can spend, it's time to think about the different factors that could affect your bottom-line price. Next, let's take a look at a few of the top factors that will ultimately the amount you'll pay.
1. Geographic Location
First, think about where you'll shop for your wedding dress. As you might imagine, a dress at a local, small-town retailer will usually cost less than one at a big-name store.
This is because those stores have the advantage of brand recognition. They can afford to charge higher prices for their garments because they're backed by years of positive customer feedback.
One advantage of shopping at these retailers? While you may pay more up-front for your gown, you'll have access to many more wedding dress options! These stores usually boast a much larger inventory than smaller companies, so you're free to explore a range of different styles.
2. Embellishments
Next, consider how simple or embellished you'd like your wedding dress to be. You'll naturally pay more for any sequins, ruching, or lace that you want to add.
One way to work around this? If you know how to sew, consider investing in a simple wedding dress and adding those special touches yourself! You may even save money by taking your gown to a local tailor and asking them to make it more glamorous.
If you go this route, you may not even have to limit your shopping spree to a wedding dress store! You can look for a simple, neutral-colored dress at any formalwear boutique!
3. Dress Style
In a similar vein, it's also important to think about the style of dress that you want. A casual dress will usually set you back less than a ballroom-style, ultra-formal one would.
It's easy to spend upward of $5,000 or more on a glamorous wedding dress by a premium designer. If that number far exceeds your budget, consider adjusting your expectations for your look. By taking the glam factor down a notch, you may be able to reserve funds for other parts of your wedding or even your honeymoon!
Not sure what your personal style looks like? Check out this quick guide!
4. Multiple Dresses
Increasingly, it's becoming popular for modern brides to buy and wear more than one gown on their wedding day. For instance, you may purchase one to wear to your bridal brunch, one to the ceremony, and one to the reception.
Then, you may also need one for your departure! While this approach is fun and allows you to showcase different versions of your personal style, keep in mind that it can ramp up costs. As an alternative, look for a longer dress that can easily convert into a shorter version when it's time to hit the dance floor!
While you might pay a little more for a convertible dress like that, it should still be less expensive than purchasing multiple gowns!
5. Local vs. Destination
You might think that brides would spend more money on a local, hometown wedding where everyone they know will be in attendance. However, it tends to lean in the other direction.
Destination weddings are naturally luxe, and many brides choose to splurge on a dress to match the occasion. One reason is that without as many decorations and details to fuss over, they feel comfortable spending more on their gown.
Add up the costs of your wedding so far, regardless of where you're holding it. If you find that you've spent a ton on local preparation, consider cutting back a little when comes to attire.
Another factor to keep in mind? Many destination brides choose to do a beach-themed photoshoot after their ceremony. If you plan to romp around in the ocean and essentially ruin your dress, then it doesn't make sense to pour a ton of money into it.
This doesn't mean you have to settle for an inferior version, though. Simply change into a less-expensive dress when it's time to snap the pics!
6. Dress Designer
Another factor that can affect wedding dress prices? Look at the name on the price tag. Like a well-known dress shop, the moniker of a notorious designer can hold a great deal of weight.
Some brides know exactly who they want to design their gown, and they've known for years. If this is you, then start saving early. that way, you can comfortably pay for the dress when that time comes. For instance, look for stores that advertise partnering with Cocomelody if you've followed the brand for ages and have your heart set on their designs.
However, don't be afraid to think outside of the box and work with a lesser-known designer. Local department store brands can offer some stunning gowns, even if they aren't as easily recognizable.
Want to save even more money and support your local community in the process? Reach out to your local art or fashion school and inquire about having a group of students design your dress! This can be an excellent project that allows them to exercise their creativity.
Who knows? The gown they design may be worth a fortune if they follow their craft and become well-known in the industry one day!
7. New vs. Pre-Loved
As you browse wedding dress options, resist the urge to go with a brand-new gown right off the rack. While these will be pristine, most will come with a sky-high price tag.
Instead, consider browsing your local thrift store, or spending a weekend morning at an estate sale. At these places, you can find pre-loved dresses that still have plenty of life left in them! Even if they aren't your exact style, you can afford to spruce them up and tailor them precisely, given that most will set you back fewer than $100.
If you don't see any obvious wedding gowns as you shop, don't despair. Look in the formalwear section for any prom dresses, church dresses, or similar styles. Remember: You can always dye the dress if everything works but the color!
8. Manufacturered vs. Handmade
While a handmade gown is gorgeous, you may pay more if the designer is prominent in your community. This is in contrast to the fashion students mentioned above, who will likely charge less than anything you'll find at your local wedding store.
Well-known designers can command higher prices, simply because they're more experienced. They know the exact process to follow and can create a bespoke gown that's sure to turn heads. They'll also pour a significant amount of time and energy into the project, which doesn't come cheap.
A ready-made dress shouldn't cost quite as much, depending on where you shop. Think about how much emphasis you'll place on the dress and how long you plan to keep it. If you're considering it a keepsake, then go ahead and invest in a custom creation.
How Much Does a Wedding Dress Cost? Start Here
As you punch the calculator and try to add your wedding up, it helps to know the average prices for each part. This becomes a little more challenging when you ask, "How much does a wedding dress cost?"
There isn't an easy average to share, because each bride is so different. Your location, style, designer choice, and more all factor into the price you need to budget. Before you start, take the time to determine what your ideal gown looks like, and how you'd answer all of the questions above.
This should give you a clearer picture of what you can expect to spend as you walk down the aisle and start the rest of your life! Looking for more lifestyle advice? Check out our other helpful guides!