What Can Be Done in a Day with Same-Day Dentistry?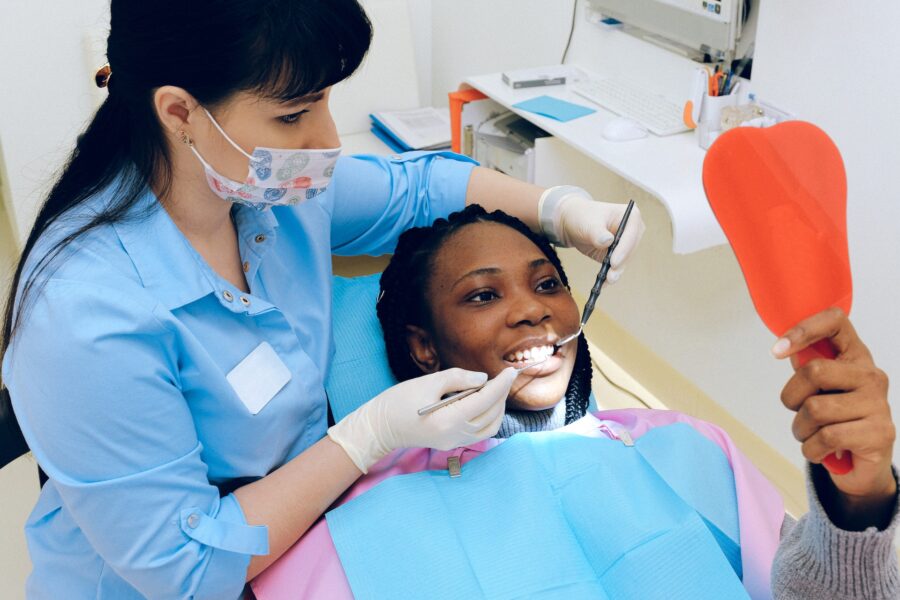 We're all pressed for time in today's society, but what if you could have great dental care and beautiful smiles done in one day? With same-day dentistry, this is a reality. Same-day dentistry offers various dental services that dentists can complete in just one visit. From tooth repair to cosmetic procedures, same-day dental work can dramatically improve your smile.
What is Same-Day Dentistry?
Same-Day Dentistry is a relatively new way of providing dental care that significantly benefits dentists and their patients. With Same-Day Dentistry, dentists can provide many treatments, such as fillings and cleanings, in a single appointment, unlike traditional dentistry, where multiple appointments are required. 
Benefits of Same-Day Dentistry
Same-day dentistry offers many advantages to those who choose it over traditional methods. Here are some of the benefits: 
Convenience: One of the most appealing aspects of same-day dentistry is its convenience. With same-day dentistry, you can get the treatment you need without waiting days or weeks for an appointment. You can enjoy improved efficiency by completing your treatments in one sitting. 
Time Savings: Another great advantage that comes with same-day dentistry is time savings. With traditional dentistry, it may take several visits stretched over multiple weeks or even months before a patient receives the care they need. In contrast with same-day dentistry, all treatments can be completed in one visit, saving you valuable time. 
Cost Savings: As well as offering convenience and time savings, same-day dentists also offer cost savings for their patients. By eliminating multiple visits for a single procedure and providing high-quality care in less time, same-day dentists can save you money in the long run by completing treatments quicker and more efficiently than traditional methods allow them to do.
What Can Be Done with Same-Day Dentistry?
No matter what your dental needs are, same-day dentistry can help. Here's a look at some of the procedures that can be accomplished within the same day: 
A. Fillings 
Fillings are one of the most common same-day treatments available. Fillings can be used to repair cavities and other damage caused by tooth decay or trauma, and they can be placed in just one visit. Your dentist will remove any damaged or decayed tissue before filling the cavity with a composite resin material or an amalgam filling, depending on which type is best for your needs. 
B. Crowns 
Crowns often protect weakened teeth from further damage and restore their strength, shape, size, and appearance. To place a crown on a tooth requires two visits, one for preparation and fitting and one for placement, but with same-day dentistry, you can have your crown created and placed all on the same day.
C. Dentures 
Same-day dentures make it easy for patients who require full dentures or partials to leave the office with restored teeth immediately. At the appointment, your dentists will run you through several steps, including impressions of your mouth so that custom molds are created to fit your gum line perfectly on the same day as having them placed. 
D. Bridges  
Bridges are a great way to restore missing teeth without invasive surgery. With the development of Same-Day Dentistry, it is now possible to get a new bridge on the same day you visit the dentist. This procedure uses advanced digital technology and high-quality materials to create your new bridge in as little as an hour so you can walk out of your appointment with a beautiful, fully restored smile. 
E. Root Canals 
Root canal therapy is a last resort when attempting to save damaged teeth from extraction due to severe decay or infection. While root canal treatment takes a series of stages involved, now there's a possibility to accomplish an entire root canal in a single appointment using same-day dentistry techniques. Find out four same day dentistry to consider https://dentakay.com/same-day-dentistry-4/
Other Treatments Available with Same-Day Dentistry 
A great thing about same-day dentistry is that not only does it offer convenient ways to get specific treatments done quickly, but there are also other types of procedures available besides those mentioned above, such as:  
Teeth Whitening: Teeth whitening is very popular within cosmetic dentistry. Those results could happen within hours thanks to advancements in technology allowing bleaching solutions to work faster than before, so stains get lifted away quickly and conveniently.
Teeth Implant Placement: Implants provide long-lasting restorative solutions for missing teeth. This procedure carries considerable complexity and is typically completed in two stages. However, if everything goes well, Same-day dentistry allows the procedure's success in a day.
Tooth Extractions: Tooth extractions sound intimidating, but they're standard dental procedures. Extractions involve the removal of the affected tooth either directly due to severe decay trauma or other factors. Depending on the severity, set extraction could be completed within hours or even less making this service ideal for those wanting fast relief from discomfort and pain caused by infected tooth pockets created by extraction. 
Conclusion
Same-day dentistry has dramatically improved the speed at which dental procedures can be completed, providing patients convenience and relief from pain and discomfort associated with oral health issues. From simple fillings to complex bridge replacements, this procedure's options are wide-ranging, ensuring everyone finds something that suits their individualized needs.