How Much Does an RV Cost? The Complete Guide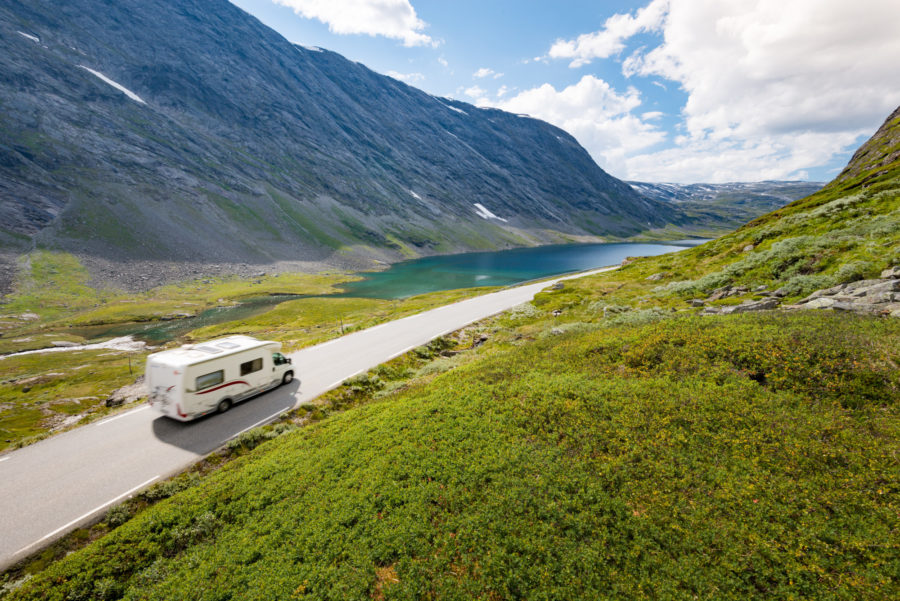 Did you know that 79% of people surveyed like to sightsee in their RV? If you are looking to buy an RV to enjoy the summer months coming up, you are in the right place. We are going to share how much does an RV cost in the article below. 
Our guide on the average RV price will help you feel a bit less overwhelmed when you visit any RV dealership. 
How Much Does an RV Cost?
The answer to this question is – it varies. A new RV can range from $10,000 to over a million dollars. The reason for such a large range is that there are endless options, some RV's are very simple and give you basic amenities, while other RVs will give you all of the comforts from home while you are on the road.
Class A
The most expensive RV type is the Class A motorhome. This is the large RV that has an engine in it and it resembles a bus. The average cost for a Class A starts around $50,000-$100,000 and can go all the way up to a million or more dollars.
A Class A offers almost all of the same amenities that you have in a home and they also have multiple slideouts to give you more room when you park your RV in your final destination. You can shop online at places like https://www.leisurelandrvcenter.com/ to see if you can find the perfect motorhome for you and your needs.
Class B
These RV models are some of the most popular because they are not as intimidating to drive around because they are not huge. They are the size of a van but with amenities to make your trips more comfortable. 
Class B's range between $40,000 to $100,000+. The range varies based on the manufacturer and the amenities and finishes you choose. 
Class C
This RV also has a built-in engine and as far as size goes, it is in between a Class A and a Class B. A brand new Class C can range from $60,000 to mid $100,000's. 
These are good for smaller families that do not want to drive something as large as a Class A motorhome. The Class C has a distinct feature which is the loft above the cockpit. Modern Class C's also have slideouts to give you more room when you park your RV.
Travel Trailer
A travel trailer is a towable camper that you can pull around with a larger SUV or a truck. A new travel trailer can start around $10,000 and go up to the mid $60,000's. 
Keep in mind that because a travel trailer is towed around with a small hitch, it can become unstable at higher speeds depending on the tow vehicle. For this reason, you want to make sure that if you opt for a travel trailer you choose a tow vehicle that can handle the weight with no problem.
Fifth Wheel
This is a larger tow behind and is usually much heavier than a travel trailer. A fifth wheel camper is pulled with a hitch that is attached to the bed of a truck, similar to the hitch that 18-wheeler trucks use. This type of hitch gives fifth wheels much more stability and makes them easier to back up than travel trailers.
For a brand new fifth wheel, you can expect to pay between $15,000 to $100,000. The price depends on the amenities you choose and the size. There are fifth-wheel campers that are up to 46 feet in length. 
Fifth wheels are popular because of their tall ceilings, making them feel more like a real home and perfect for anyone that is taller. 
Pop-Up Camper
These pull-behind campers are the lightest of all and are also more budget-friendly. The price ranges between $8,000 to $20,000. 
If you already have a vehicle that can tow a pop-up and are on a tighter budget then this might be the best option for you. A pop-up will still give you some modern-day amenities such as a wet bathroom, a kitchen, and dining tables that convert into beds. 
Extra Costs
Once you buy your RV there are other costs that you will have to worry about. One cost that you will want to think about is storage for your RV. If you live in an area that doesn't allow you to keep your RV in your driveway then you will have to add a monthly storage fee to your list. 
Another added expense is insurance. If you are financing the RV, you will have to pay for more coverage which means higher premiums. You will also have to spend extra money on accessories to make your trips more pleasant.
You might want an outdoor mat to put in front of your RV, camping chairs, a grill, etc. Other accessories that you will need include water hoses, sewer hoses, propane tank refills, possibly a generator, and a surge protector because you never know when you will have bad weather while you are camping. 
Ready to Go RV Shopping?
Now that we have answered the question "how much does an RV cost?" you can make an informed decision while you are shopping. You also know what price to expect when you buy brand new. 
Once you get your RV, congrats ahead of time, and we hope you get to enjoy the great outdoors!
Did our blog post help you today? Please come back soon to always stay in the know.