When it Comes to Winterizing Your Boat, Be Proactive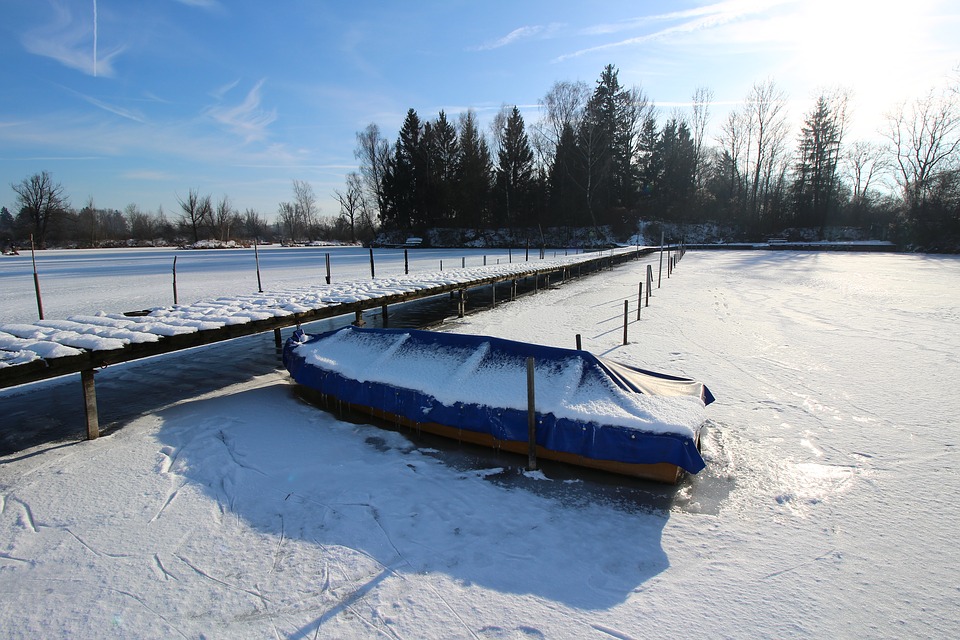 There's no better time to be out on the water than the weeks of late summer and early fall. But eventually the seemingly-endless wave of heat gives way to the crisp, cooler temperatures of late autumn. And before you realize it, winter is in full force. 
The last thing you want is for winter to creep up on you without having a plan for your boat. Winterizing is an important process. The question is, do you know what to do?
When is the Right Time to Winterize?
The winterization process should be timed right. If you prepare your boat for winter storage too early, you miss out on valuable time spent on the water. If you move too late, you could put your boat at risk of weather-related damage. 
There isn't a specific date when boaters all collectively pull their boats out of the water and begin the process of winterizing. It depends on numerous factors and preferences. But if you're looking for a solid approximation of when you should start, check The Old Farmer's Almanac (which has predicted the weather since 1782). You'll find a breakdown by city, state and zip code. Look for the first "frost" of the season and this will give you a ballpark estimate.
It's important to remember that this date is nothing more than an average of historical data. An early freeze – which could quickly destroy an expensive boat engine – could pop up out of nowhere. Thus, it's a good idea to start winterizing your boat at least three or four weeks before this date.
Finally, if you live in a warmer climate where there isn't much snow and waterways don't freeze over, you have a little more flexibility. By keeping an eye on the weather and using engine compartment heaters, you won't have to be a stickler about winterizing. 
Helpful Tips for Winterizing Your Boat
Every boat owner has a unique approach to prepping a boat for winter storage, but here are some suggested courses of action:
If you aren't careful, acids (or even water) that get into your oil can corrode your engine over the winter. It's highly recommended that you change the filter, flush out the existing oil, and replace it with fresh oil. 
Spray Engine With Fogging Oil
A simple spray of fogging oil into the carburetor – or through the spark plug holes if your manual instructs you to do it this way – will keep your engine's moving parts lubricated and protected during the cold, harsh temperatures of winter.
Get the longest life possible out of your drive belts by loosening or removing them before placing the boat into storage. This will prevent excess tension (which causes these belts to crack under stress).
"Locate the remote fluid reservoir for the gear case and upper drive and top off with fresh fluid. It is also a good idea to put your craft into dry dock with a full tank of gas," Wholesale Marine advises. "Many boat owners prefer to trailer with an empty gas tank, but a full tank prevents condensation to form, which is a leading cause of engine failure."
This is an easy step to forget or ignore, but it's a small investment of time and money to potentially prevent thousands of dollars in premature engine damage. There's no need to take any unnecessary risks.
Nothing is worse than grabbing the family, returning to your boat in the spring, putting it in the water, and hearing that "click, click, click" sound that tells you the boat won't start. But if you don't unplug your battery at the start of winter, this is exactly what will happen. There's no sense in allowing your battery to drain and die over the winter. Disconnect the battery and top it off with some distilled water for good measure. 
Nobody likes cleaning, but go ahead and wash and wax your boat before storing it. This will save you a lot of time in the spring (and makes your boat look awesome when you take it out of storage).
Finally, cover the boat up! In warmer climates, you can probably get away with a simple boat cover to protect from dirt, dust, and grime. In colder climates, you may consider indoor storage (or at least a parking spot with a roof to prevent snow from damaging the boat).
Boat Owners: Plan Ahead
The moral of the story is that you can't be a reactive boat owner. Winter weather is harsh on a boat and inactivity and/or delayed actions could result in major damage or premature deterioration. Be proactive and take the necessary precautions to protect your investment. When spring rolls around, you'll be glad you took the time to do things the right way.